MEDIA RELEASE:
On July 6, 2017 at approximately 6:00 AM, Deputies were dispatched to the 12800 block of Independence Road for a suspicious vehicle that was possibly listed as stolen.
As Deputies were responding, the vehicle, an older model Crown Victoria, was observed traveling eastbound on Rt 40 in the area of Huyetts. The vehicle then tuned onto Rt 63 and proceeded onto eastbound I70.
Deputies attempted to conduct a traffic stop on the motor vehicle, but the vehicle failed to stop and accelerated, reaching a speed of 85 mph. The vehicle swerved between the left and right lanes numerous times with no regard for the other vehicles on the roadway.
The vehicle exited the highway on the exit ramp for southbound Rt 632 (Downsville Pike). Due to the high rate of speed, the suspect vehicle was unable to control its speed and struck the concrete median barrier with the left side of the vehicle. The vehicle then bounced off the median and fish-tailed across the entire off ramp and proceeded off the roadway into a ditch located on the southbound side of the I70 EB ramp to southbound Rt 632. The vehicle struck the ditch and came to a final stop in the ditch area.
After the collision, the front seat passenger took off running from the vehicle. The driver of the vehicle attempted to flee but was quickly taken into custody by Deputies.
The driver of the vehicle was identified as COREY LANIEL MOORE JR, 19, of Laurel, MD.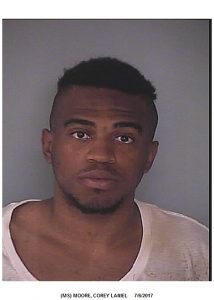 Moore was charged with the following: One count of motor vehicle theft unlawful taking and multiple citations for his multiple traffic violations.
Moore is currently being held at the Washington County Detention Center on no bond.
Law Enforcement searched the area in attempt to locate the passenger who fled. Deputies were able to obtain an identity of the passenger, who is a 15 year old male.
The juvenile male was located at approximately 12:15 PM, traveling in a vehicle in the area of Potomac Avenue and Eastern Blvd. When Deputies conducted a traffic stop on the vehicle, the juvenile, again, attempted to flee the area. Deputies were able to place the actively resisting male into custody.
The juvenile continued to be uncooperative, slamming his own head off of the partition inside of the police vehicle, several times.
Deputies requested EMS due to the laceration the male caused to himself by slamming his head into the partition. The male was transported to Meritus Medical Center for treatment of his injuries.
The juvenile male was treated and transported back to the Sheriff's Office for holding due to the outstanding juvenile violation of probation warrant for his arrest.